Tulum Uncovered:
Beyond Mexico's All-Inclusive Track


Peter Greenberg
Travel news you can use from America's travel expert

December 4, 2012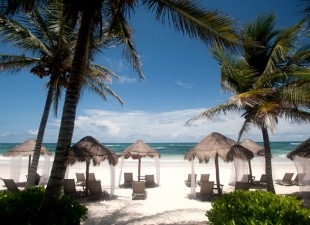 For independent-minded travelers who shun the all-inclusive resort, land-of-the-wristband concept of vacationing, the beaches of Tulum are the new vortex of do-it-yourself cool. Janet Fullwood gets away from the all-inclusive resort strips and discovers the laid-back vibe in the Mexican Caribbean.
Driving south on Mexico Highway 307 from Cancun to Tulum, a distance of about 80 miles, what grabs your attention most is a succession of fortress-like facades, one more grandiose than the next, arrayed against a solid green wall of jungle. Each marks the entrance to one of the large-scale, all-inclusive resorts that have come to define the new face of tourism on Mexico's Caribbean coast.
Self-contained and wildly popular with families and couples looking for a high-value, low-hassle vacation, all-inclusives are largely responsible for a tourism boom that brought 21,000 new hotel rooms to the Riviera Maya in the past decade and drew a record 3.6 million visitors, 80 percent of them American, to the region last year, according to the regional tourist office. But they're hardly all there is.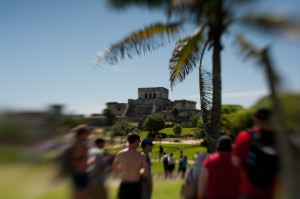 Two miles south of the much-photographed Maya ruins perched on a bluff above the sea, a strip of white sand stretches 18 miles to Sian Ka'an Biosphere Preserve, one of the largest conservations areas in Latin America. Budget travelers "discovered" the beaches of Tulum in the late 1960s, and a sprinkling of bare-bones, thatch-roof hotels with latrines down the path grew up to accommodate them. In the late 1990s a slew of foreign investors moved in, and today a miles-long stretch of boutique hotels, more than 50 in all, attract an international melange of travelers.
The vibe here is quite unlike any other tourist zone I've visited in 30-plus years of travel in Mexico. An ethic of sustainability prevails, reinforced by environmental restrictions (no buildings taller than a palm tree) and limited electricity (hotels run on solar, wind or generator power). Make that stylish sustainability: For the past decade, ever since former Argentine model Nicholas Maleville and his wife, Italian designer Francesca Bonao, established their Coqui Couqi inn, restaurant and spa, the "beautiul people" of the international fashion industry have made Tulum a getaway hotspot.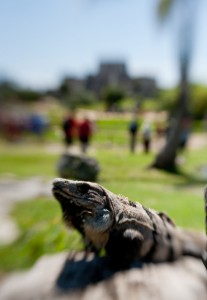 Cruise the narrow beach road, drenched in the flickering shade of palm trees, and you'll pass bikini babes on bicycles, sassy boutiques, laid-back beach clubs, open-air restaurants and an assortment of architecturally stunning lodgings incorporating palm thatch, rock and other local materials. Just in case you don't "get" the cool factor, sign after sign advises that you have now entered "hip," "eco-chic," sustainable," "charming," "bikini boot camp," yoga-intensive, om-inspiring, vegan catering, massage-available, shaman-on-call, New Age territory.
Thirty years ago, when I drove down in a VW Bug rented at the Cancun airport, the vibe here was one of serendipitous discovery. It still is—only now, there's much more to discover.
This time, I'm driving the Bug's 2012 equivalent: A stick-shift Nissan Tsuru with no clock, no radio and just one lonely hubcap. The destination is not Tulum Beach (although we'll spend plenty of time there), but a vacation villa in a development called Tankah Tres, about six easy-driving miles up the coast.
For the seven of us traveling together, including a family of five, Casa Perla del Mar, a four-bedroom, Mediterranean-style home owned by a San Francisco Bay Area couple, seems a perfect alternative to multiple hotel rooms and a steady diet of restaurant meals. The apricot-colored villa looks stunning on the Internet and comes with glowing references on TripAdvisor.com, where it was named top vacation rental in Tulum for 2011.
In person, it's even better. Two mirror-image floors, each with full kitchen and living quarters, offer separation and privacy for families or couples traveling together. To the side of the indigo-tiled pool are baskets brimming with of masks, snorkels, flippers, beach towels and umbrellas—everything one might need for a beachgoing day trip. Elaborate tile work throughout the house underscores the cheery Mexican décor, and beds are as comfortable as what you'd find in a five-star hotel (only, fitting, as owner Patricia Beaudoux works in the international hotel industry and knows what it takes to satisfy to high-end travelers.)
Casa Perla is loaded with amenities, but my favorite feature is something much more organic than Internet connections, microwave ovens and flat-screen TVs: 18 sets of sliding-glass doors (yes I counted) that open to fill the house with a sea breeze that is nothing short of narcotic. The turquoise Caribbean, just across the road and visible from the second story, swooshes serenity night and day.
The home's location, near the end of a security-guarded road lined with American and Canadian-owned vacation homes, many of them quite grand, seemed remote a first blush. But it grew on me, and grew some more, and within 48 hours I was deeply appreciative of the quiet, the privacy, the freedom to rise early, pad over the terracotta-tiled floors to the kitchen, put the coffee on and prepare my favorite breakfast: a plate of papaya, banana and pineapple drizzled with lime juice, savored while sitting on a balcony watching bright tropical birds flit in the foreground of a jungle stretched like green carpet to the horizon.
Call me a spoiled American, but having a rental car is a convenience that, in this easy-to-navigate part of Mexico, I wouldn't have wanted to be without. The house proves an ideal jumping-off point to all the region's draws, from stunning turquoise waters for swimming and snorkeling to a world-class barrier reef for diving, Maya ruins for history, Maya villages for culture, "eco-parks" for the kids, boat trips through the biosphere preserve and more than a dozen cenotes—sinkholes and cave systems fed by underwater rivers—where, for admissions ranging anywhere from $2 to $80, you can swim or sign on for an adventure tour.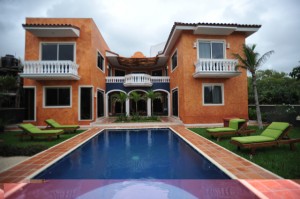 My companions and I have many Technicolor adventures, and as the week winds down, so do I. On my last, lazy afternoon, friends having departed, I return to the hotel zone for a grilled grouper lunch at Tita Tulum, one of the more modest lodging establishments on the beach. In the course of a long walk down the strand, I watch kite surfers launch, am tagged by a trio of friendly dogs and do a doubletake as I stroll past a Japanese photographer clicking away at his topless girlfriend, who is posing like a porn star in the surf.
Back in my lounge chair, I order a cold Corona, close my eyes and start plotting how to get another group of family and friends on board for a return.
IF YOU GO
Getting there: The Tulum area is most easily accessible via rental car, but you could also hire a taxi or a shuttle from the Cancun airport.
Getting around: Taxis and collectivos (vans that travel a set route) troll the beach strip, and hotels offer group tours to area attractions.
Seasons: Prices (and weather) vary dramatically according to season. Peak months are January-March, when weather is predictably clear and sea water at its clearest. Hotel rates drop by half or more during the July-October low season, when rain and wind can be expected.
Vacation homes: Casa Perla del Mar and many other vacation rentals are clustered in the Tankah and Soliman Bay areas just north of the Tulum ruins. A 7-night stay at Casa Perla del Mar runs from $1,800 to $4,500, depending on season, working out to a reasonable $64 to $160 a night for each of the four bedrooms. Daily housekeeping service and preparation of one meal a day is included in the rates. A number of bed-and-breakfasts, including American-owned Casa Amor del Sol, cater to couples seeking a quiet, off-the-beaten-path experience.
Tulum beach hotels: A wide array of http://www.petergreenberg.com/2009/05/23/ask-the-locals-riviera-maya-mexico/price points makes Tulum affordable to a wide range of travelers. On the modest end is Tita Tulum, with 10 cabana-style rooms from $95-$170 a night. Mid-range La Zebra, $128-$550, has a well-regarded restaurant and live salsa music on Sunday nights. Maya Tulum Spa Resort is a wellness and yoga retreat with rooms from $120 to $660 and a wide assortment of packages. Ana y Jose Charming Hotel & Spa is an elegant hotel with one of the strip's best restaurants; room rates start at around $250 a night. On the high end is Be Tulum, an Agentine-spiced celebrity hideaway with low-season rates from $350.
For more information on Tulum and Mexican adventures:
- Spring Break for Grown Ups: Cancun the Rivera May
- Ask the Locals: Riveriera Maya, Mexico
- Peter's Travel Detective Blog: Why I Travel to Mexico
Text and photos by Janet Fullwood for PeterGreenberg.com. Janet is a freelance writer and editor who served as the travel editor for the Sacramento Bee for 21 years.

View this article online at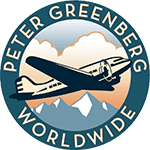 Tulum Uncovered: Beyond Mexico's All-Inclusive Track >